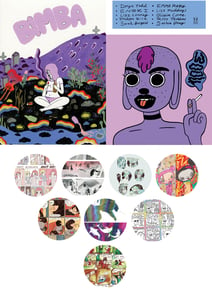 £

10.00
Here at Bimba we ♥ comics.
We want to promote kickass female artists and have made this awesome anthology to show you the best of our home-grown UK talent. Full of sweetness + attitude, girls up to mischief, weird adventures + willy jokes.
Issue 1 : 'Girlgang' features artists:
Donya Todd / Emma Raby / ENOKI / Lize Meddings / Lizz Lunney / Olivia Lorne / Philippa Rice / Rose Robbins / Sarah Burgess / Sophia Viney.
To see some of the work included in this issue please visit : www.bimbagirlcomics.co.uk /
bimba-girl-comics.tumblr.com / @bimbagirlcomics / FB : Bimbagirlcomics
44 pages,
Full colour,
10 artists,
Mixed media.